Have you been thinking of adding content to your website? Perhaps you're launching a new online business and know that valuable content is key to attracting readers and ranking high on search engines. You may even be a small business owner who is accustomed to wearing multiple hats in order to stretch a dollar, but you realize there's just too much to do.
Whatever your reason for needing content, if you're debating between the DIY approach or hiring a content writer, keep reading to learn the top reasons why hiring a professional content writer is well worth the investment.
Is a Professional Writer Worth The Money?
A professional writer has a talent for transforming a client's ideas and knowledge into an article, eBook, or how-to guide in a way that the reader will find compelling. If you're concerned that an "outsider" won't have the ability to create content that aligns with the "tone" of your website, and resonates with your audience, then think again.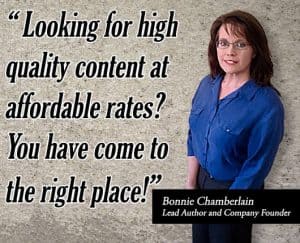 Being able to mirror the voice of a client while adhering to a specific brand persona is one of the most important skillsets of a talented writer. Aside from helping you build your brand, they can also help you engage your audience with new topics and ideas. So, let's dive into some other reasons why you may want to hire one.
Poor Content Can Damage Your Reputation
As a successful business owner, you recognize the importance of hiring employees to take care of the day-to-day responsibilities, like an accountant to oversee finances and tax liabilities and a salesman to reach new prospects. That same attitude should apply when adding content to your website.
By hiring a professional writer, you'll avoid the risk of publishing content with grammatical errors or making careless mistakes that could damage your reputation with customers and your search engine rankings.
Take Advantage of a Fresh Perspective
Without a doubt, you're skilled in multiple ways and understand the ins and outs of your business. After all, you're a successful business owner, right? And while that knowledge is certainly beneficial, it may not be enough to attract new clients when it comes to your website and content.
A professional writer can effectively use the information you provide and have a fresh perspective of your business by identifying those unique aspects of your business and the products/services/approach that you have to offer. Not only will this viewpoint set you apart from the competition, but it will also help attract potential customers.
Consistency Is Key
Consistently creating and posting new content to your website is important for your visitors as well as search engines. By partnering with a content writer, you'll have an expert capable of implementing your SEO strategies, maintaining a consistent voice and writing style, all while updating old content and continuously creating new relevant content that will entice existing viewers to return again and again.
You'll Have Time to Focus on Growing Your Business
High-quality writing requires time and research. Hiring a professional writer provides you with a reliable resource while freeing up the time of you and your staff to focus on other important aspects of growing your business.
Quality Content Generates New Leads
Business-focused content on your website will give you leverage as an expert in your industry and attract qualified traffic. Rather than casting a wide net in an effort to attract a lot of people, it's more worthwhile to focus on attracting an audience that is actually interested enough in your product or services to make a purchase.
Once they land on your website and leave their contact information, the likelihood of them becoming customers increases dramatically. As they move through your sales funnel, you'll have the opportunity to collect their email address, offer a free eBook, and so on – the possibilities are massive, and a professional content writer can help you create everything from articles and lead magnets to monthly email newsletters and social media posts.
Content Matters to Search Engines
There was a time when website content simply had to include a few keywords to rank as a trustworthy expert. However, with new algorithms, a lot more is required nowadays. A brief look at Google's 175-page quality rating guidelines shows they factor in everything from how often content is updated to how relevant it is to the site (i.e. expertise, authoritative, trustworthy).
A professional content writer in collaboration with your marketing team will set you up with SEO, original, quality content that checks off all the boxes for Google's ranking system. If you try to do it on your own, you'll find that learning SEO is a full-time job in itself, and bringing in an expert is a major time-saver.
The Risk of Using Spun Content
While it may be tempting to use a content spinner tool or freebie content writer, resist at all costs. These tools primarily reword sentences and use synonyms to change up an existing article. As a result, spun articles usually don't flow very well, often appear that a non-native English writer constructed them and the outcome generally sends readers away quickly. Not to mention, it's an act of plagiarism that could get you fined!
Because Google has implemented complex algorithms, spun content is also easily detected by search crawlers and may result in low or no ranking at all.
Bottom line, it is important for your business to have quality, original content so you can show up on the first pages of search engines, attract new customers and keep existing ones coming back. So, isn't it time to collaborate with a professional writer?
Looking for a high quality affordable content writer then check out www.helpfulwriter.com