Email marketing is one of the most profitable things you can do as an online marketer. You have heard the saying "the money is in the list" I am sure.  Even if you don't consider yourself a marketer, building a mail list is crucial to just about any online business. Sending out emails, newsletters and having an autoresponder all involves having a "clean list" of mail contacts.
It's important to keep your mail list clean for many reasons.
Most autoresponders charge by how many contacts you have or how many emails you send or both. Having bad emails on your list can cost you money or worse your autoresponder account could be banned for sending too many emails that get bounced back or reported as spam.
Enter Email List Cleaner Pro  by BlazinSoftware.com. A complete free click and clean solution for PC & Mac. Yes free, no upsell no crippled feature but a complete email list cleaner with many options. Automatically removed duplicates & improperly formatted addresses. You can select what cleaning actions to perform to your list. Remove role accounts from your emails. What are role accounts; [email protected],  a[email protected], [email protected], [email protected] for example.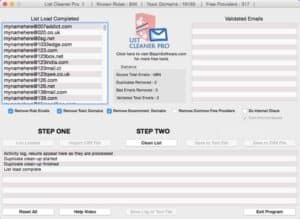 Also remove government domains, toxic domains ( domains typically used by mail spammers & throw away email accounts used for signing up for free stuff and never used again ). Remove free providers such as Gmail, Yahoo, mail.ru, gmx to name a few.
If that's not enough it can even do a very thorough Internet check to make sure each email has the proper DNS mail record entries. To avoid you from sending mail that will get bounced back killing you auto-responder reputation and possibly your account. The Internet Check option eliminates bad domains, but be warned if you have a large list then it may take a while to complete the verifications. Keep your list a laser targeted email list and avoid being reported for spam.
The cleaner will display a nice pie chart at the end of the cleaning process to show just how "healthy" the source list was. This gives you a quick overview of how much your list really was "worth" before the cleaning. I rather have 100 good leads than 900 bad ones.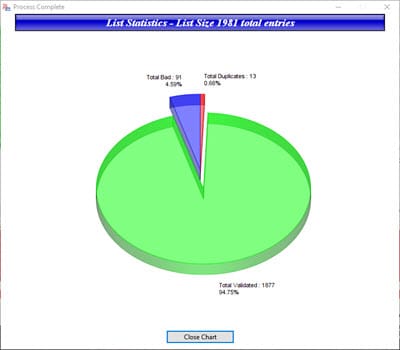 We've seen subscription services that do much less and stand-alone software products costing hundreds of dollars. It's very easy to use with a simple 1,2,3 workflow. Plus a simple overview video is available if you need a little guidance.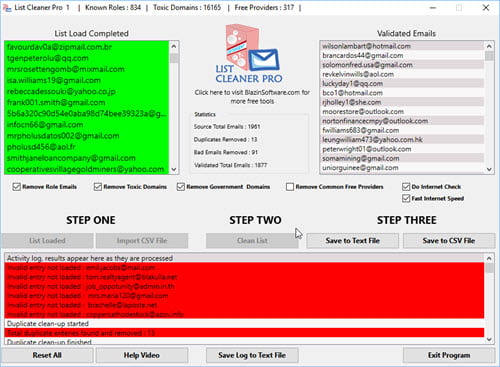 Save yourself and your auto-responder a lot of grief and keep your mailing lists clean. It's literally a push-button process that anyone can do.
NOTE: Currently this software is offline due to changes in the TLS layer it uses, it will be hopefully made available again soon
It's simple…  if you plan on or are doing email marketing list building, then grab yourself a free copy of List Cleaner Pro by blazinsoftware.com