This software is no longer available, this review is here for archival purposes only.
Over the years Facebook has made it more difficult for marketers to capitalize on their platform. Basically if you want to advertise on Facebook they want you to pay them. Enter Video Auto Click (with a massive discount)…
Video Auto Click allows you to use your YouTube videos to market on Facebook with some ninja like features.  Video Auto Click (which will be referred to as VAC for the rest of this review) allows you to post your YouTube videos to Facebook Pages, Fan Pages ad Groups allowing you to add a call to action placed beneath them and when the video reaches the end it will auto forward the viewer to any URL you wish, this is very powerful.
The Magic of Video Auto Click
The user doesn't have to click any links nor do you have to send them to some website then try to get them to click your affiliate link. Instead you can send them directly to the affiliate offer, that's insanely powerful.
If  for some reason the browser doesn't auto forward a button will appear at the end of the video inviting them to click to go to your link. You get to add a custom image the users will see before the video gets played. Then if you do retargeting you can set a tracking pixel if you like. Plus on top of all that you get weekly tracking statistics of your VAC campaigns.
To make this product even sweeter it's a hosted solution, which means there is nothing for you to install or maintain it's all done for you.
The YouTube ID of <span style="font-size: 16px;">NGFqJq7TXIg</span> is invalid.
There isn't really any negatives with Video Auto Click that I can see besides the price of $97 (don't worry we have this taken care of… read below). I am not saying it's not worth it, but not everyone has $97 when first starting out. Then there is an up-sell to agency license which honestly doesn't provide any extra features but allows you to create accounts. Most will be happy with the standard product.
It's very easy to use as the screenshot below shows what it takes to create a new Project (video) to share.
Since you get unlimited projects you can target unlimited niches. Remember the power behind this is that you are sharing videos and many Facebook groups will allow the video to be shared unlike an affiliate text link post especially if you get a little creative with the videos.
Notice the shared video shows as FULL SIZE in the time line instead of some dinky thumbnail. It really makes it standout and grabs the visitors attention. Other solutions can not offer full size videos.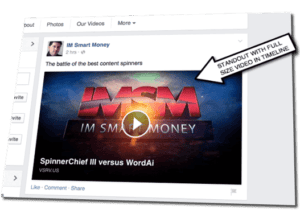 We didn't find any gotchas with the product, but there was one thing we found out while using it that you should be aware of. Before you share your video you should have your custom imaged uploaded if you plan to use one. If you don't upload the image before sharing it not it will not show and you will need to recreate the project with the image and then share it. This is a Facebook issue according to VAC's creator.
So let's recap what VAC does…. Share your YouTube videos just about anywhere on Facebook including Fan Pages & Groups with a call to action, statistics, retargeting and  auto forwarding the viewer to any URL. VAC allows unlimited projects so create as many VAC shares to Facebook as you like. It's a hosted solution so no install required, very little technical skill at all is required to use VAC.
Without sounding too sale's pitchy… are you ready to be blown away.  We have arranged for our visitors to get Video Auto Click for a one time payment of $5.99 for lifetime access, yes you read that correctly the same $97 lifetime product you see on their page you can get for $5.99 by clicking the link below. Actually if you share the deal during check out you get another 50 cents off!
Don't worry we won't try to scare you on buying it now by threatening with a huge price increase. That's not how we roll here at IMSM, we want you to get the best price possible. We do not plan on the price increasing unless Video Auto Click owners decide we are allowing people in too cheap (which we are 🙂 ).