Screen Casting is term used for recording your computer screen. This method of producing videos is not only one of the easiest, but it's one of the most effective ways of making sales and leads. It doesn't require any real technical knowledge either.
There are many programs for both PC & Mac that can do this, but only a few that truly excel at it. When starting out you might be on a tight budget, but you do not want to skimp on getting the best tool for the job here. I can narrow it down to one, Camtasia. Plain and simple sure you will here a few others mentioned, but Camtasia is the cream of the crop.
The good news is that  your can get Camtasia for Windows and Camtasia for Mac. While there are some difference between the two platforms, overall it's similar enough that if you know one you can work the other.
Once you have it you can start making screen casts right away. It can be as simple as recording a PowerPoint or Keynote presentation and uploading it to YouTube.While this works extremely well, you do want to put a little effort into it and have a professionally thought out presentation.
Another power use of screen casting is to do a real time review of websites and products. It's great if you get early access to a product before launch, you can show the product in use and give a review of it. This then could be used for launch jacking, a term used to start promoting a product before it is even on sale, that way you will already be ranked in Google for the product term. This works if you know how to rank videos, which we will cover inside the free members area.
Camtasia will allow you to record both your screen and a video source such as a webcam at the same time, so you can have a taking head inside the video to give it a more personally touch. A lot of people are camera shy and will often skip doing this, that's OK you do not have to, but know people often trust videos more where there is a person in it.
With the newer version of Camtasia it's become a much more powerful video editor. While you do not have to be a video pro to operator it, it's getting closer to editing capabilities of products such as Adobe Premiere . It now has multiple tracks for audio, video and effects. It can do transitions, text overlays, multiple videos on the screen at once and more.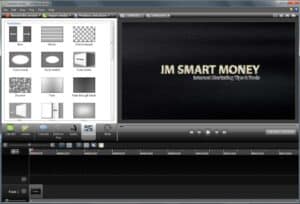 So if you have not started in screen casting, then you are really missing out on a great source of income. Not only is it fast and it's also extremely easy to do. Doesn't matter if you are on a Mac or PC you can create these powerful videos in minutes once you get the hang of it.
Buying a screen recording software such as Camtasia will be one of the best investments as a marketer you will ever make.
Links to Get Camtasia
Camtasia for Windows
Camtasia for Mac